From: 630 Custom Animation Templates for PowerPoint
NOT Flash | NOT Looped GIF files | NOT Video backgrounds
Just fully editable templates that use advanced custom animation features in PowerPoint. Create engaging presentations and training material easily.
Download Sample File to Evaluate Animations Pack
Preview of the file you will download.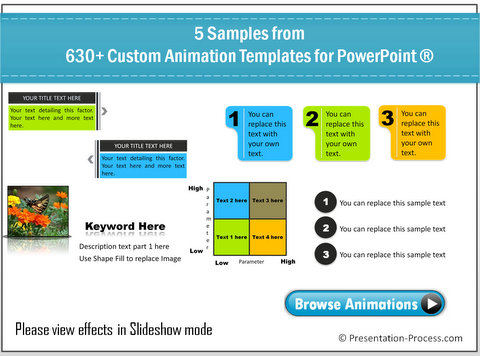 About the sample file:
The file you will download is a zipped file.
Save and extract the pptx files to your desktop to evaluate CEO Pack 2.
There are 5 different types of charts in the file for your to use.
These sample charts are provided to you under a Personal License and are not for distribution or sharing.
The pptx file contains links to the site, additional resources and terms & instructions of use.
Pptx files can be used in PowerPoint 2007, 2010, 2013 and other compatible systems on both Mac and Windows machines.
Browse the contents of Custom Animations pack
Proceed To: