Home > Presentation of Data
Business presenters use tables, graphs and charts as part of their presentation. Such data provides evidence for their claims and support for their ideas. It is critical therefore to present data powerfully.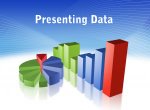 It is sad that business presenters do not work towards presenting data the right way – to get audience attention. Audience dislike complex or confusing data and typically turn off when such data is presented. The most strongly presented argument can fail if data is not presented properly.
---
TUTORIALS FOR DATA-DRIVEN CHARTS
---
Don't have time to go through all these tutorials? Find ready to use Data-Driven Templates for Project, Sales, Reporting, Budgeting and MIS
---
INFO GRAPHICS
---
---
Useful Videos on Customizing Charts
---
TIPS FOR EFFECTIVE CHARTS
---
Return to Top of Presentation of Data Main Page
Find More PowerPoint Tutorial Sections Here
Share Your Comments
comments