Home > How To Present> How to Summarize
Does your audience seem lost during your long presentation? You can see this happening when you ask them to recall a point and they look blank.
Do they find it difficult to put your information in context?
Chances are you may not be summarizing your points frequently enough. We will see how you can summarize your presentation effectively to enhance audience retention.
Let's start by asking a simple question:
When should you summarize your presentation?
Did I hear you saying, "Towards the end"?
Wrong! You would've lost your audience by then.
An effective presentation habit is to summarize at the end of every major point. It's all the more important to do so, if your presentation is long and content-rich.
The logic behind summarizing your points:
Do you remember building a tower with playing cards when you were a child? Every time you added a new card on top, you carefully adjusted and aligned all the other cards under it. It helped you build a tall and stable tower.
The principle applies to your presentations as well. Every new point puts a strain on memory of what was covered earlier. Unless you summarize periodically, your audience can't remember your points beyond a point (pun intended).
How to summarize your presentation in a structured way?
Having a clear agenda for your presentation is a good starting point. It gives you clear guideposts to take stock and move forward. Repeat your agenda slide after every major point, with a clear indication of what's covered so far. For example:
This simple structure allows you to refresh the memory of your audience periodically. It helps your audience to place new information in the right context. It lays the foundation for an effective 'call to action'. Remember, the call to action and WIIFM has been set right at the start.
Example of an effective presentation summary:
A good summary is short and quick. Here is an example of a sales presentation summary:
"I understood that your main requirements in choosing a home loan are – interest rates, long tenure and high loan amount. So far, we saw how our scheme offers you a highly competitive rate and the longest tenure for your age. Now, we'll talk about loan amount."
This summary gives you a chance to showcase your main benefits over and over again- in a reassuring way. It maximizes your opportunity to win business in a sales presentation.

Some creative ways to summarize your presentations:
Here are 3 creative ways to summarize your presentations.
1. Use a quiz format to summarize a training presentation:
There can be many variations to this. Some presenters choose to show just the title and ask the participants to recollect the content. Some choose to use fill in the blanks format or true/false format to test the memory. Whichever way you choose, summarize your training presentations frequently.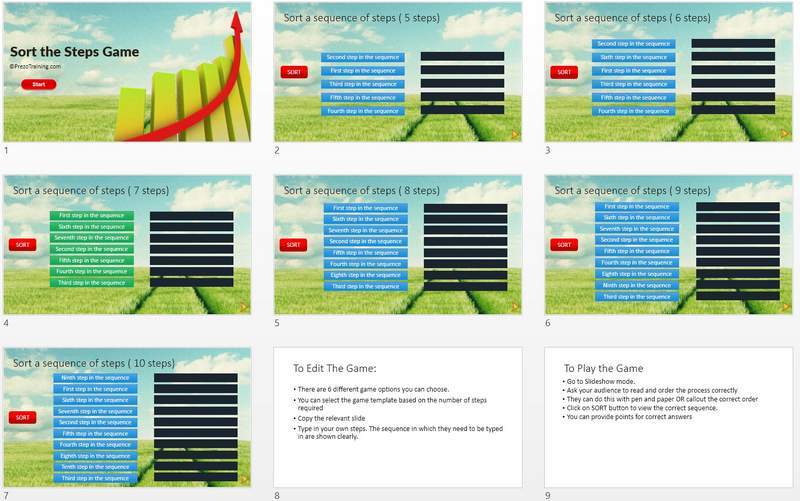 We have found Quizzes to be an extremely effective way to summarize in a training. That is why we put together 45 different types of PowerPoint Quiz templates in a pack.
Just select the type of quiz and add your questions. You can find out more about the Quiz pack and download it here:
2. Use a mid-session Q & A to summarize your business presentation:
We've seen presenters disguise their summary like – "We've covered Point A, Point B, and Point C – are there any questions in what we've covered so far?"
This helps them recollect their main benefits without sounding repetitive or pushy.
3. Repeat some key images and terms from earlier points to serve as memory hook:
Repeating images and key terms on your slides help you recount your points automatically. So, constantly referring to your earlier segments is a useful practice.
Finally, to summarize this article on 'How to Summarize' your presentation…
Summarize at the end of every major point.
Use your agenda slide to serve as guidepost.
Let your summary be quick and short
Explore creative ways to recall your key points
Return to: How to Present Main Page
Return to Top of How to Summarize Page