Home > All Tutorials > Tutorial Videos>PowerPoint 3 Factors Diagram
Learn to create PowerPoint 3 Factors diagram with this step by step tutorial. The diagram uses creative hexagon shapes and triangles to present 3 related ideas around a core. You can use this diagram to show core diagram, 3 related ideas, 3 outcomes of an event etc.
This tutorial is created in PowerPoint 2013.
Here is an screenshot of the 3 factors diagram you will learn in the video: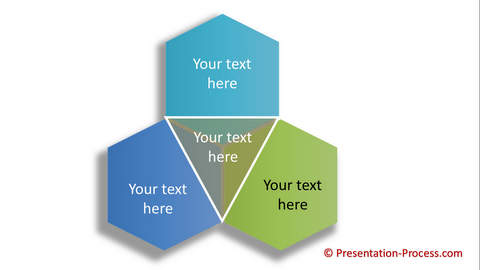 Click play to view the tutorial:
Stay Updated about New Tutorials
Follow our Youtube Channel
Product showcased in this video: PowerPoint Charts & Graphics 2 CEO Pack Bundle 1500+ ready to use and fully editable templates
If you liked this tutorial and would like to learn more, please browse through this site. You will find over 350 PowerPoint tutorials and creative ideas for presentations. Thanks you for watching the video and happy presenting!
Related: Learn to create a 3D Core diagram
Return to Main PowerPoint Tutorial Videos Page