Home > How to Present>> From Dull to Dynamic- Kathryn Mackenzie
In this interview with Certified World Class Speaking Coach, Keynote speaker and Author Kathryn Mackenzie, you will discover how to take your speeches from dull to dynamic.
About Kathryn
Kathryn Mackenzie started her journey as a professional speaker in 2003 when she joined Toastmasters. She is a Champions' EDGE member and has completed her credentials as a certified world class speaking coach with Craig Valentine and Mitch Meyerson.
She is the author of Speeches That Will Leave Them Speechless: An ABC Guide to Magnify Your Speaking Success.
In her public speaking workshops, Kathryn is committed to assisting others overcome their fear of public speaking and become powerful presenters.
---
Dull to dynamic presentations: The difference
A dull presentation is one that is boring, since it is non-engaging, uninteresting, rambling, and linear. It therefore leaves a lasting negative impression on the audience, and the audience is not enticed to make any changes.
A dynamic presentation is one that is engaging, captivating and inspiring. It leaves a positive lasting impression on the audience by instilling hope that they can readily implement techniques to have a more enlightened life.
---
Arte: Let's start with a basic question. How can a presenter tell if his / her presentation is dull or dynamic?
Kathryn:  It is simple. Have you, as an audience member, ever experienced "screen-saver eyes" as in a glazed over look when someone was speaking?
If we were to apply this same rule to your speech: Have you yourself ever given such a speech and seen those signs?
I will safely assume that at one time or another, we've all experienced that negative response. If you ever see that glazed over look in your audience's faces, then that's the first obvious visible sign of a dull presentation.
There are other indicators you can observe from their body language to know if you are engaging them or not.
Are they fidgety and constantly checking the time?
Are they checking messages on their Blackberry, shuffling papers or packing their supplies earlier than they should?
Are they whispering, looking down, yawing, scanning the room or edging their way to the exit?
These are all visible, tangible negative signs for you to observe and take note.
The opposite of these signs in their facial expressions and body language tells you that your speech is dynamic. The following are some of the positive indicators:
Are they eager to participate in discussions and activities?
Are they asking questions?
Are they nodding in agreement, smiling or even laughing when you are humorous?
At the end of the presentation, is the audience interested in wanting to be placed on your list, investing in your products, signing up for a future seminar, in general, wanting to know more about you and the value you can provide?
Arte: Can you share an example where a person lost out because his/her speeches were dull?
Kathryn: I will refer to myself about 7 years ago when I lost out at the toastmasters District level competition. It was not that I was not entertaining. But the content was not rich, it did not leave the audience with a meaningful message and it did not have a solid structure either. I lost out and it was a great lesson for me. I still cringe when I watch the video (which I rarely do!!)

Arte: So, would you say that the key is in the strength of content or in the style of delivery?
Kathryn: In my opinion, content and delivery go hand in hand.
An effective speaker needs to be a great 'edu-tainer.' – educate and entertain! 
Isn't it possible for a speaker to have great content and deliver it poorly, therefore missing the mark? What about a speaker who has excellent delivery strategies, but is not content-rich? Again the speaker misses the mark in moving from dull to dynamic as the audience is simply entertained and learn nothing new to take away with them.
Arte: So what is the change that makes presentation more dynamic? What should a presenter do?
Kathryn: There are so many changes a speaker can make as I have over time. But the one that I would highlight is about talking to audience members as individuals rather than talking to the audience as a collective mass. The word YOU is a very powerful tool to connect with your audiences…after all, isn't connection the goal of communication?
Arte: What are steps you would advise a presenter to follow to hone their skills? 
Kathryn:  The first step one needs to take is to practice, practice and practice in front of live audiences, as in joining a local Toastmasters club. How can you become more effective if you're not comfortable standing up front of a group? However, that said, you most definitely need to pick up new tips, tools and techniques from experts in the field of speaking.
Arte: How easy is it to make this change from dull to dynamic speaker? Have you seen people make the change?
Kathryn: It is easy but requires investing time, effort and money in studying the art of speaking since most effective public speakers are not necessarily born that way; they have practiced using tried and true formulas that facilitate their growth.
Yes I have seen such a person change and improve…yours truly! I was in toastmasters for a couple of years, becoming more comfortable on the stage but no one could tell me HOW to specifically improve to truly enhance my skills to an effective degree; consequently, I sought out masters who could.
For example, I had been told I was pacing too much, but no one was able to tell me that there are 3 reasons to move on the platform: change of thought or idea, by creating spots for opposites, as in bad/good, negative positive; creating a timeline, as in past, present and future; and finally, demonstrate traveling words as in "I walked to the car ('Phrasing helps with staging')
Another example of my own change was to make my stories relevant to the audience. This helped connect with the audience, by using the most important word in speaking: 'you' and using it to draw the audience into my scenes, touching base with them periodically in my stories and presentations by asking rhetorical questions and providing time for them to reflect.
Arte: Where can people know more about you and about being a dynamic speaker?
Kathryn: As stated earlier, moving from dull to dynamic as a speaker requires time, effort and practice in front of live audiences and of course study material from those who have mastered the art.
Most emphatically, the world class speakers' invaluable resources all of which I have and use for constant referral when giving my own keynotes and workshops. Check out on the same page, Champions' EDGE, a fabulous membership which sends you monthly CD's with lessons from the champs, plus many other benefits.
Arte: Thank you, Kathryn, for taking the time to answer our questions and teaching presenters how to get from dull to dynamic.
Kathryn: Thank you, Arte.
I will close by quoting the late Keith Harrell: "What got you here, won't get you there."  Remember, if you do what you've always done, you'll get what you've always 'gotten.' You need new proven tools and new techniques to move you from where you are now to where you aspire to be. At which speaking level do you want to be by next year? What is YOUR next step?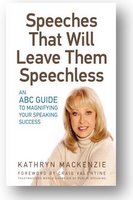 You can learn about being a more dynamic speaker, with Kathryn's book:Speeches That Will Leave Them Speechless- An ABC Guide to Magnify Your Speaking Success,
The book has a foreword written by her mentor, Craig Valentine, the 1999 World Champion of Public Speaking and you can also find out more about her CD "Panic to Power" co-created with 3 world champions.Kathryn is located in Toronto, Canada and can be contacted through her website.
Return to Top of Dull to Dynamic Interview with Kathryn Mackenzie Page
Related: Effective Sales Presentation Skills