300+ Hand drawn Graphics for business users. Fully editable in PowerPoint. Make your business, training & e-learning presentations creative!

Contents: 321 Slides with Graphics + 280 Bonus Design Elements
Download now!
Price: $129
---
Main Page | Features & License Terms | Contact Us | Pricing
---
Browse the contents of Hand Drawn Graphics pack
Pros and Cons & Timeline Graphics Templates
Linear and Circular & Looped Process Graphics

Presentation Agenda & Bulleted and Numbered Lists

Concepts related to Growth,Achieving Objectives & Solving Problems

Concepts related to Ideas, Thoughts, Comparisons and More…
Hand Sketched Consulting Diagrams

Hierarchy, Filters Network and Flower Diagrams
Hand Sketched Cause and Effect, Triangles and Wheel Diagrams
Your product awesome! Used your graphics for a business presentation today. Saved me an incredible amount of time. Love the variety… Nia Rose
Go ahead, get this pack and make creative presentations!
Instant Download!
File Type: Pptx for PowerPoint 2007, 2010, 2013 & 2016 & for Windows & PowerPoint 2011, 2016 for Mac
Contents: 321 Slides with Graphics + 280 Bonus Design Elements
30 Day Money Back guarantee.
Have an issue with checkout?
Please use the alternate secure payment link via 2Checkout provided below.
2Checkout.com Inc. (Ohio, USA) is a payment facilitator for goods and services provided by Metamorph Training Private Limited.
Get a comprehensive pack for PowerPoint that contains 1500+ Charts & Diagrams,  630+ custom animated templates, 320+ Data-Driven Graphs, 12 Themed Templates and an eBook!
All In One Bundle for PowerPoint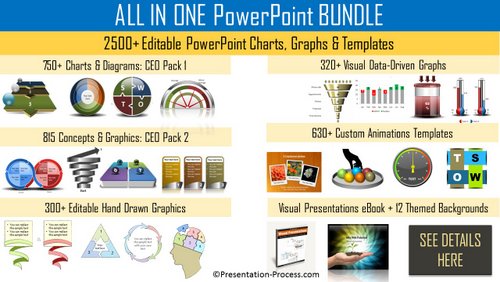 ---
Why Use PowerPoint Hand Drawn Graphics Pack:
1. Easily Editable diagrams
These Scribble style graphics in PowerPoint are NOT images. In our pack all elements can be edited. You can change colors, add animations, add more elements, mix and match shapes, increase decrease shapes, change font types etc. to create your own presentations.
This pack is fully editable as they are PowerPoint Templates. Use them in PowerPoint 2007 /2010 or higher on any Mac or Windows machine.
2. Professional Effects
We have ensured that while you convey your message professionally. The scribbles don't look childish or roughly created. Usually the way presenters create hand drawn effect in PowerPoint is to use the scribble tool.
This results is rough and ready. Its difficult to use such scribbles in professional business presentations. They are also very time consuming to create and may take hours to create something for a complete presentation.
This pack helps you put together a professional presentation quickly.
3. Create Easy to Understand Presentations
Many times e-learning and training content needs to be made easy to relate to and simpler. The quickest way to achieve this is to use hand drawn effect diagrams.
Make your e-learning / training content user friendly with this pack.
4. Represent any Business Idea
Another drawback that we have seen as trainers and content developers is that there are not enough varieties of graphics of hand sketch effect available.
The Hand Drawn Graphics Pack has over 300 different templates you can use to represent virtually any business idea.
5. Differentiate your presentations
Some presenters don't like using templates within PowerPoint as it makes their presentation look like any other. They spend hours creating a different look and feel.
This pack provides a ready solution for presenters who'd like to present creatively.
Hand Drawn Pack Contents:
This pack contains editable sketch style graphics, handwritten, pictographs, graphics, scribble, & sketch effect diagrams to make your presentations look different and interesting quickly.
The Graphics section contains 126 templates including Agenda | Pros & Cons |Bullet Point Alternatives | Road Map | Timeline templates | Circular Flows & Loops | Linear Process Diagram | Bullet Point and Numbered List alternatives.
The Business concepts section contains 79 different and creative analogies, concepts and relationships you can use to represent your ideas. This section includes ideas, bulbs | thought processes | gears | team, team work|task categorization | leadership concepts | growth and target templates for sales & marketing | Choice and Evaluation | Finance templates | Comparisons etc.
The Consulting Models section contains sketched style 116 models, consulting diagrams and business models to structure your ideas. This section consulting diagrams like SWOT, PEST, VENN, Butterfly diagrams, onion diagram, impact diagram | Cause and Effect Diagrams | Business diagrams | wheel diagrams | layered models | flower diagrams | triangular models | filters, funnels |hierarchy diagrams | network models, and more..
The bonus section provides a lot of arrows, highlights, generic icons, web icons, flow chart symbols, network icons, backgrounds and more to help you customize your presentation easily.
Return to Top – PowerPoint Hand Drawn Graphics Pack Page
Please Share Your Comments & Suggestions