Learn to create a designer numbered list in PowerPoint. This tutorial goes beyond the simple way of adding a number with a large font and adding a similar colored text box adjacent to it.
Once you follow the tutorial, and create the list, you can also add animation to it.
Here is an screenshot of the designer list you will learn to create: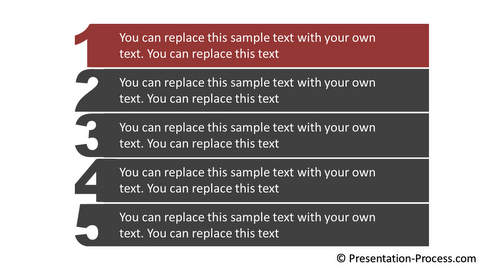 Click play to view the tutorial:
Follow this tutorial for PowerPoint 2013
To  use the Subtract Tool shown in the following video you need to set up the Quick access Menu in PowerPoint 2010
View Tutorial to create the diagram in Any PowerPoint version
This additional video was created as the Fragment tool used in previous tutorial is not available in previous versions of PowerPoint.

You can find 750+ ready to use custom animation templates in our animations pack. They are fully editable templates that use the extensive animation features of PowerPoint in a professional manner.
If you liked this tutorial and would like to learn more, please browse through this site. You will find over 250 PowerPoint tutorials and creative ideas for presentations.
Thanks you for watching the video and happy presenting!
Related: Creative uses of Hexagon in PowerPoint
Return to Main PowerPoint Tutorial Videos Page