---
From: PowerPoint Graphics, Concepts & Diagrams CEO Pack 2
Instantly download 815+ fully editable PowerPoint Graphics for CEOs.
Represent even MORE business ideas visually.
---
Success PowerPoint Templates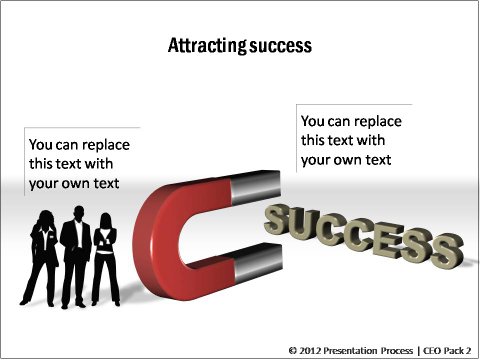 Description: These concept templates are based on the theme of success. The business ideas you can visualize using the templates in this set are: attracting success, winning against all odds, gaining unfair advantage, pillars supporting success, problems in reaching success, building blocks to reach the No.1 position, being the center of attention, reaching for the stars etc. The inspiring visuals used in the set will add a touch of professionalism to your business slides.
Winning against all Odds
Success and Center of Attention
Problems in Achieving Success | Pillars Supporting Success
Unfair Advantage | Reaching for the stars
Steps to Being Number 1
Building Blocks for No.1 Position
Related PowerPoint Graphics in CEO Pack 2
Return to Top of Success PowerPoint Templates Page
---