Home > All Tutorials > Tutorial Videos > 3D PowerPoint Timeline
Learn to create a 3D timeline diagram in PowerPoint with this tutorial from our 3D series. The diagram shows a series of rounded text boxes linked by an arrow. You can customize the diagram based on your requirement and use the same base template to create a roadmap, list of things to do, next steps, linear process diagram etc.
Here is an screenshot of the 3D Timeline Diagram you will learn in the video: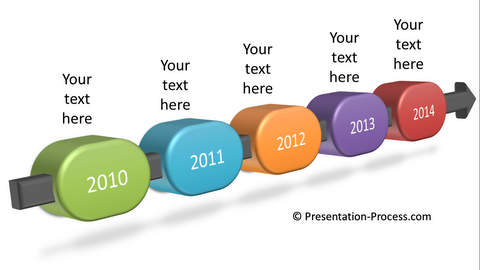 Click play to view the tutorial:
Stay Updated about New Tutorials
Follow our Youtube Channel
If you liked this tutorial and would like to learn more, please browse through this site. You will find over 350 PowerPoint tutorials and creative ideas for presentations.
Thanks you for watching the video and happy presenting!
Related: Milestones in PowerPoint
Return to Main PowerPoint Tutorial Videos Page