Home > All Tutorials > Tutorial Videos > PowerPoint Businessman Icon
Learn to create a simple business icon in PowerPoint with this tutorial. You would need to use Merge function available in PowerPoint 2010 version and higher ( 2013 or 2016 versions.)

Use the icon for multiple purposes in your business presentation.

View video on setting up quick access toolbar here. You will need to watch and follow this video first, if you use PowerPoint 2010.

You can also find a video on creating a Bulb diagram showcased in this video in PowerPoint.
Here is an diagram that uses the icon you will learn to create: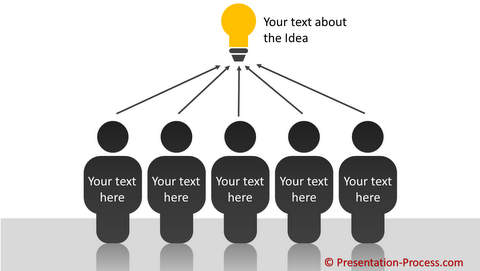 Click play to view the tutorial:
If you liked this tutorial and would like to learn more, please browse through this site. You will find over 250 PowerPoint tutorials and creative ideas for presentations. Thanks you for watching the video and happy presenting!
Related: Hand drawn chart effect
Return to Main PowerPoint Tutorial Videos Page