Home > All Tutorials > Tutorial Videos> Smartart Mistake
In this SmartArt Video you will find a common mistake that presenters make when they convert their slide with SmartArt. This video uses the example of PESTEL analysis diagram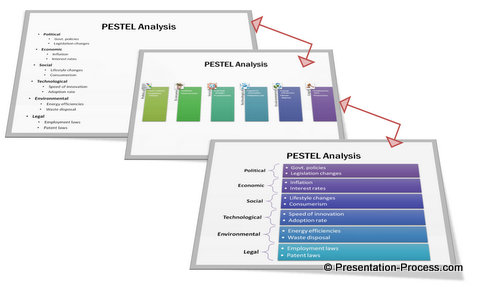 Click play to view the top mistake:
If you are a busy business presenter, you need not be confined to the small list of diagrams provided by Smartart. Here are some PESTEL diagram variations from our PowerPoint 2 CEO Pack bundle:
Hope you found this video tutorial useful. To take your business presentations to the next level, browse through this site to find over 200+ Advanced PowerPoint Tutorials and 100s of creative ideas.
Related: Create A Mobius Strip in PowerPoint
Return to Main PowerPoint Tutorial Videos Page