---
Part of: 750+ Flat Design Templates Pack for PowerPoint
Create beautifully simple presentations. Create Online ready slides with these 100% editable templates. Instant Download.
---
Click on the slides below for larger preview
Bulb puzzle as a metaphor for business solution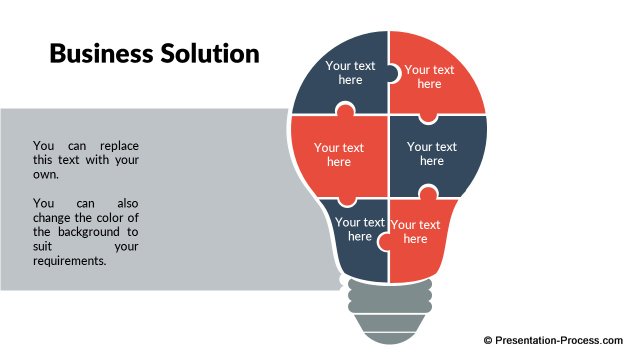 Description: This set of flat design template contains useful business metaphors. Use them to make your content engaging and memorable for your audience. Includes puzzles, mazes, crosswords, snake & ladders, playing cards, roulette wheel, chess, lego blocks and more.
| | |
| --- | --- |
| Bulb with 4 parts | 6 Part Bulb Puzzle |
Processing Skills Puzzle
| | |
| --- | --- |
| 4 Puzzle Pieces | Puzzle with unlimited links |
| Circular Puzzle | 9 Piece Jigsaw Puzzle |
Circular flow puzzle
| | |
| --- | --- |
| 2 Parts of a whole | Circular Puzzle with core |
| Puzzle with words | Difficulty metaphor: Maze |
| | |
| --- | --- |
| Complicated solution metaphor | Snakes and Ladders as metaphor |
| Building Blocks | Crossword text |
Fully editable Flat Design template of Lego style Blocks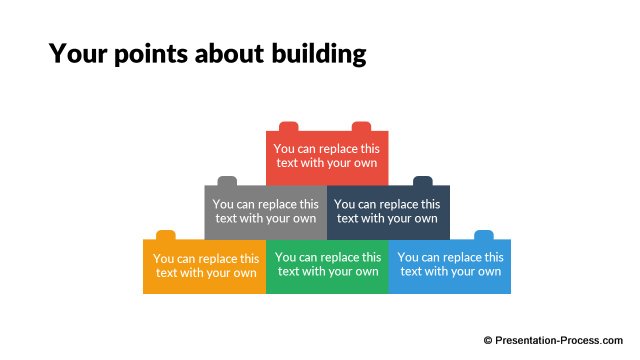 | | |
| --- | --- |
| List of points with Chess Metaphor | 2 Opposing Forces with Chess metaphor |
| 2 Strong points | Leadership Metaphor |
| | |
| --- | --- |
| Leadership Metaphor 2 | Strong vs weak point |
Strategy metaphor : Chess board
| | |
| --- | --- |
| Risk Metaphor | Chance Metaphor |
| Roll of luck metaphor | Point about victory |
| Success in risky venture | House of cards |
Related Templates in Flat Design Pack