Home > Newsletter > 1 Slide contest entry
We hold the 1 Slide Contest for our readers every month. The rules are 1 slide sent to us within 1 week. Here are the entries we have received for 1 Slide Contest. Get creative ideas from these slides shared by our readers.
Each entry is followed by what the contest entrant had to say about their slide.
We have entries for:
March 2013: SmartArt Fun 1 Slide Contest
November  2012: Any 1 Slide Contest
October 2012: 1 Slide inspired from a tutorial
September 2012 : Get Inspired from a Tutorial 1 Slide Contest
---
SmartArt Fun – 1 Slide Contest Winners for March 2013
We had fun with this contest with readers sending in useful as well as creative entries.
Here are the 3 winning entries…
1) Roshin sent in these 2 entries created with SmartArt tool. The base diagram is that of a Cycle Matrix.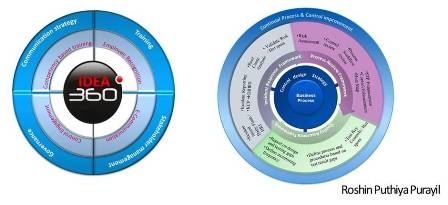 2) Tamer sent in these 9 entries. He really seems to have played around with change shape option, custom animation and more. He has used Radial Diagrams, Cycle Diagrams, Venn diagrams for his entries. Here are his entries…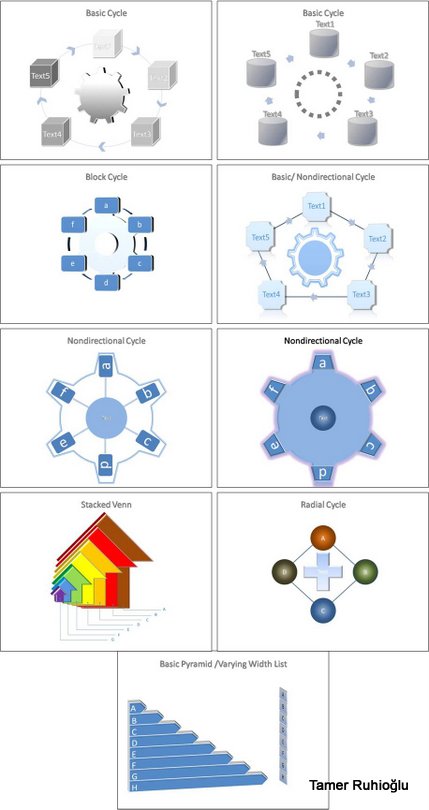 3) Jaia has sent in entries to our contests earlier as well. Here is here useful animated Smartart template. She has used the Funnel Diagram as a base for her entry.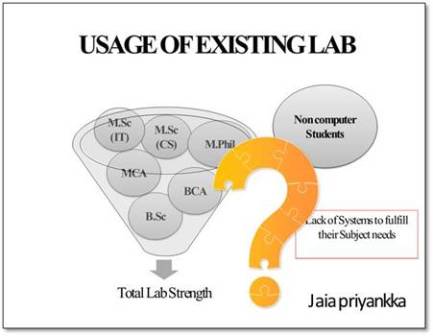 ---
---
November 2012 entries
*Winner* Clock Diagram by: Mrutyunjay Dash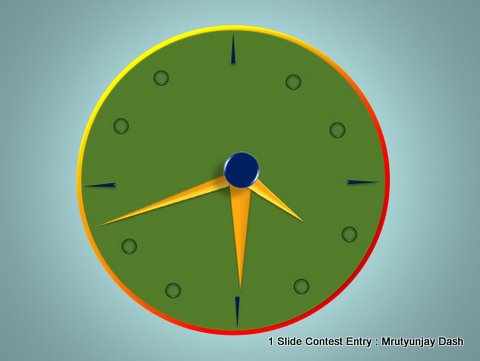 The Process of creating this slide: The most important for everything in life, may be in work or others, and every where time is the most crucial factor.
When it comes to presentation, it becomes the most important factor, may be it the duration of the presentation or the right time of presenting the concerned theme during the whole presentation, all this brings to the success of a good standard presentation.
Keeping in this mind, I thought of making a slide which would would speak out the importance of TIME.
Our comment on this entry:
This diagram is a versatile one and can be used to represent many concepts related to time, time management, setting agenda etc.
A creative use of this template is to add spin animation and count down time during a break to ensure participants know how much time is left till the meeting/ training starts up again. They are very effective!
*Winner* Hand Drawn Concept by Rex Castle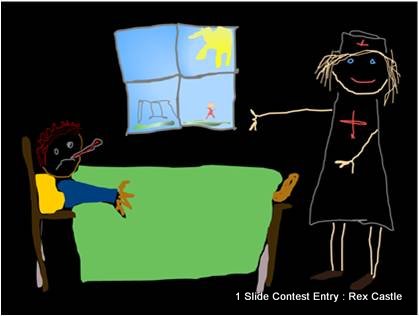 I hand drew the graphics in the attached slide and use it in a book on presentation I am self-publishing, but as a presentation the black background allows me to interact with my slides as I'm not "in the spotlight."
The graphics lead to two stories related to two different, but related, ideas about incentive plans (at different companies); through story I'm able to engage my audience in understanding why incentive plans are generally so poor and usually so poorly constructed.
Our comment on this entry:
This entry wins points for its originality and hard work. It is tough to use a scribble tool to create such sketches. Creating a whole presentation like this would take hours of work.
You can see an easy way to create PowerPoint hand drawn diagram effects here >>
*Winner* Glossy Planets by Brenda Beebe-McWhirter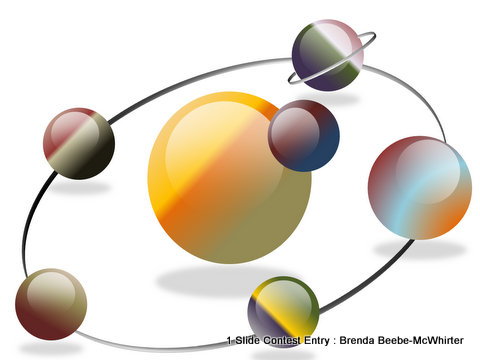 I am so very proud of this slide because your site taught me how to make glossy balls and I was so excited with the success of that I felt compelled and confident to take the glossy balls a step further! And we think the result is out of this world!!
We added a little animation to go with the a lesson and will match up the animations with a pre-recorded voice over in the beginning of next year.
The planets are various components of our company and the large ring is the common thread for which those departments work together and report in a collaborative forum.
Our comment on this entry:
The Glossy balls tutorial has been one of our most popular tutorial and we're glad to see what our readers can do with it to create an entire concept from the basic elements. You can see the tutorial here >>
*Winner* Channel Leakage by William R Bramlett Jr.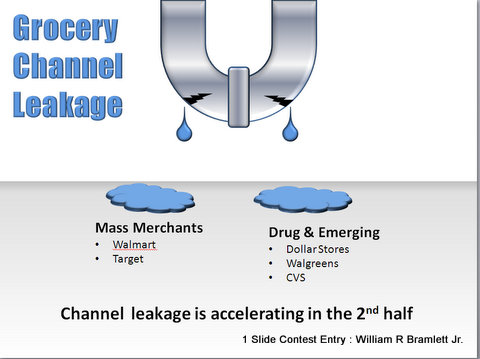 This slide was created to show our customer where they were losing share and profits. I drew the pipes and created the animation to draw attention to the loses.
Our comment on this entry:
This entry really captures why we advocate the use of diagrams in business presentations. The slide captures the business concept of leakage and resultant loss with such simple visuals.
The leakage concept applies to many aspects of business including sales process, marketing funnel, customer acquisition and more. See how you can create a water puddle effect here >>
*Winner* Speedometers by Rolendza Harviando
Click on the RED Circular Button to View Animations
I really proud of this slide because I used most of power point feature and animation which are included timing and sequence animation.
I love animation very much, and PowerPoint 2010 is a great tool. Besides I found your site is really great and I improved my skill a lot as a trainer from your tutorials. Thank you for that.
Our comment on this 1 slide contest entry:
Rolendza seems to have really had fun playing with animation effects in this presentation. He agreed to share his original files with us so we could showcase the animation.
You can find ideas for data-driven speedometers here >>
The spin animation in the following speedometer was off when we converted it into flash. Here is the image: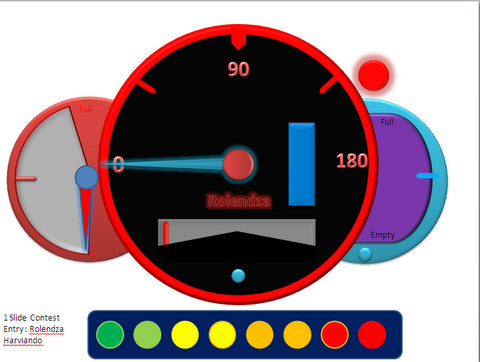 Other Entries: Statistical Data by Trivikram K

I think this is particular template gives all the safety related data in a single slide.
Our comment on this entry:
The value of the slide seems very specific to its original presentation. We weren't able to see how concepts from this entry could be used elsewhere.
Trivikram also sent us the colorful entry below:
"My slide gives an out and out way to project 6 point interrelated agenda…"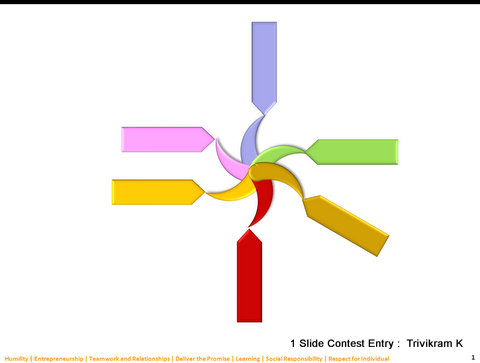 Other Entries : Quiz Template by Jaia Priyankka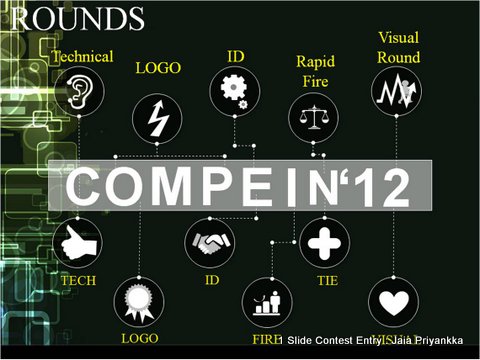 This slide was made for a national level technical meet. I was in charge of designing PPT finals for quiz. Really this slide took me approximately 1 week and cherished my moments with a lot of appreciation from my college members and from other college members too.
Our comment on this entry:
This slide uses business icons very nicely. The colors and background too were appropriate for a technical subject. However, we weren't able to see how this slide could be used for any other concept or business presentation.
---
All the winning entries for November 2012 got 10 PowerPoint graphs created by us.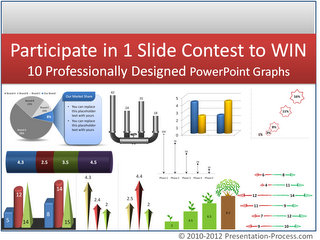 ---
1 Slide Contest Winner for October 2012:
Idea from any Tutorial
Trivikram from India created this Yin Yang Symbol from our PowerPoint 2010 Tutorials section and gave it his own spin with 3D and Bevel. He also sent us a small element created with PowerPoint effects.
He wins 10 PowerPoint Charts Templates created by Presentation Process.
Congratulations on winning the contest this month!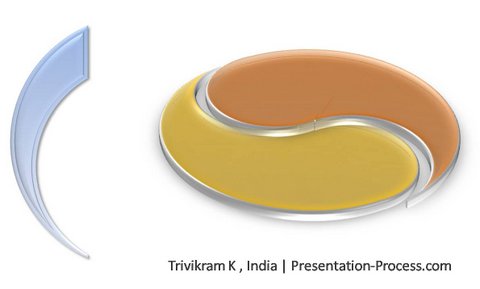 Keep a watch out every month for this contest in the newsletter.
---
1 Slide Contest Winners : September 2013
Inspiration from Presentation Process Tutorials
Winning Entry 1: Newsletter reader Doug Shaw sent us this entry:
We have just taken a screenshot here. The original entry has animations.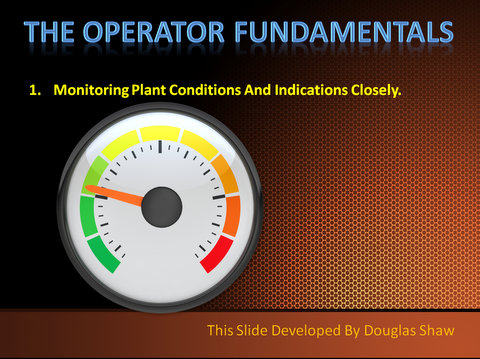 He says…
"The speedometer and its spin animation was developed using the tutorial for "Getting Started with our Animations and Clipart". I used the 'Manufacturing Element' template to develop this slide.
I develop and deliver a lot of training and the management and the students are always impressed with the PowerPoint presentations thanks to your Great templates, clipart, animations and tutorials. I have been asked to present a training class for the instructor staff so they can learn some of the techniques."
Winning Entry 2: Newsletter reader Valencia sent us this entry:
This template is a spin off from the Roadmap and Glossy Ball Tutorials.
---
If you'd like to stay updated with new articles by us, participate in contest, get information about special discounts on our products and get free presentation related downloads….
Return to Top of 1 Slide Contest entry Page
Share Your Comments
comments